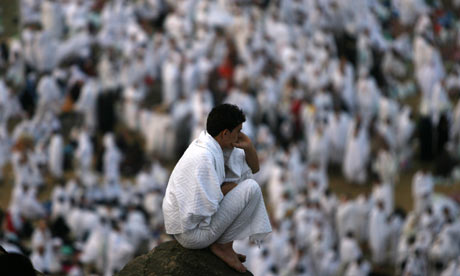 Two million or more Muslim pilgrims braved scorching heat outside Mecca today to pray for forgiveness in the final stage of the annual hajj pilgrimage – the world's largest religious gathering.
Wednesday's driving rain, Saudi Arabia's worst in a decade, gave way to blazing sunshine as the faithful climbed Mount Arafat, the mountain of mercy, the high point of the four-day ritual.
Saudi officials reported 48 people killed in flooding in the west of the kingdom, adding to this year's worries about swine flu and the permanent threat of deadly stampedes like the one that killed 350 people in 2006.
Arrangements for the "duyouf al-rahman" – guests of a merciful God – involve organisation and logistics on a vast scale. This year 1.6 million of the faithful have come from abroad. The biggest foreign contingent is from Indonesia – 200,000 – while India is sending 164,000 and Pakistan 140,000.
Pilgrims will spend the day at Arafat in prayer, chanting: "Here I am in answer to Thy call, Lord, here I am. There is no other God but Thee. Praise be unto Thee."
Later they will move to Muzdalifa to collect pebbles to stone a set of walls in a ritual that represents defiance of the devil and commitment to resisting temptation. The pilgrims then shave their heads, perform a ritual of animal sacrifice, and celebrate the three day festival of Eid al-Adha (feast of the sacrifice), starting tomorrow.
Mount Arafat, at the centre of the plains of Mina, was the scene of the Prophet Muhammad's final sermon 1,377 years ago. The day of Arafat is considered one of the most sacred days of the Islamic calendar.
The hajj is the fifth pillar of Islam and it is the duty of every able-bodied Muslim to perform it at least once in a lifetime. In recent years the Saudi authorities have carried out extensive renovations to ease the flow of pilgrims at the Grand Mosque and the Jamarat bridge, where the stoning ritual takes place.